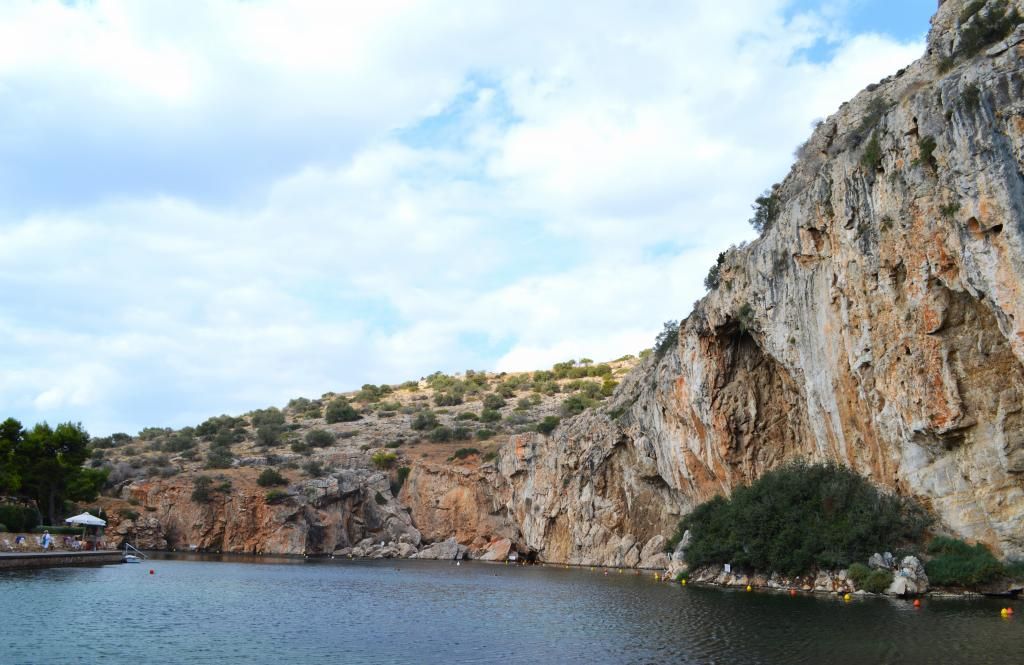 A short drive from Athens, nestled amongst rugged, cinnamon coloured rock you'll find an oasis. The towering cliffs descend into an emerald green pool where people, who travel from all over, come to swim. This is Lake Vouliagmeni. A natural spa, perfect for a lazy Saturday.
Decking surrounds the oval lake with sunloungers, tables and chairs scattered around providing ample choice of seating. It was a bit chilly the day I visited so I opted to sit out of the breeze at first, choosing to get some lunch from the restaurant area. If you'd rather sit closer to the lake then waiters will bring food and drink to you. I had a salmon and avocado salad, covered in a honey and olive oil drizzle. I was in love.
Every so often the sun would peek round from behind the clouds causing a little bit of warmth. I decided to relax on the sun loungers whilst my Dad went for a swim (he's braver than me). I was taking some photos and videos, minding my own business, when all of a sudden this little cat appeared and decided my lap looked rather comfortable. This is now the second time I've had a random cat jump onto me in a strange location (the other was on a beach in Thailand). They all know I'm a cat whisperer.


I finally sucked up enough courage to go into the water and see what the temperature was like before judging whether I'd have a swim or not. I was pleasantly surprised by how warm the water was considering the lack of sun and cold breeze that day. When I got home I had a nose on Google and found out that the lake is heated by underwater thermal springs. Pretty nifty! It stays between 22 and 29 degrees Celsius all year round and is rich in minerals and salts that supposedly have healing properties.
Whilst paddling, my feet seemed to attract quite a lot of attention. Since walking from Stonehenge to Avebury I have been aware that they are in need of some TLC, but I wasn't expecting the gathering they caused. You see, Lake Vouliagmeni is home to thousands of Garra Rufa fish. The kind you get in some spas and beauty shops that nibble away at your dead skin, yuck! I absolutely
hate
having my feet touched so it took quite a lot for me to stand there and let them do their thing. My feet left the lake feeling amazingly soft!
I didn't quite make it to swimming in the lake itself, mainly because just the thought of taking my clothes off in that breeze made me shiver. Also, the thought of putting my entire body into a lake filled with flesh eating fish (I know they're not exactly piranhas but still!) put me off a little. Maybe next time! If you're in the Athens area I'd 100% recommend taking the 25 minute drive and spending a day there. It'd be the perfect day out in Summer!