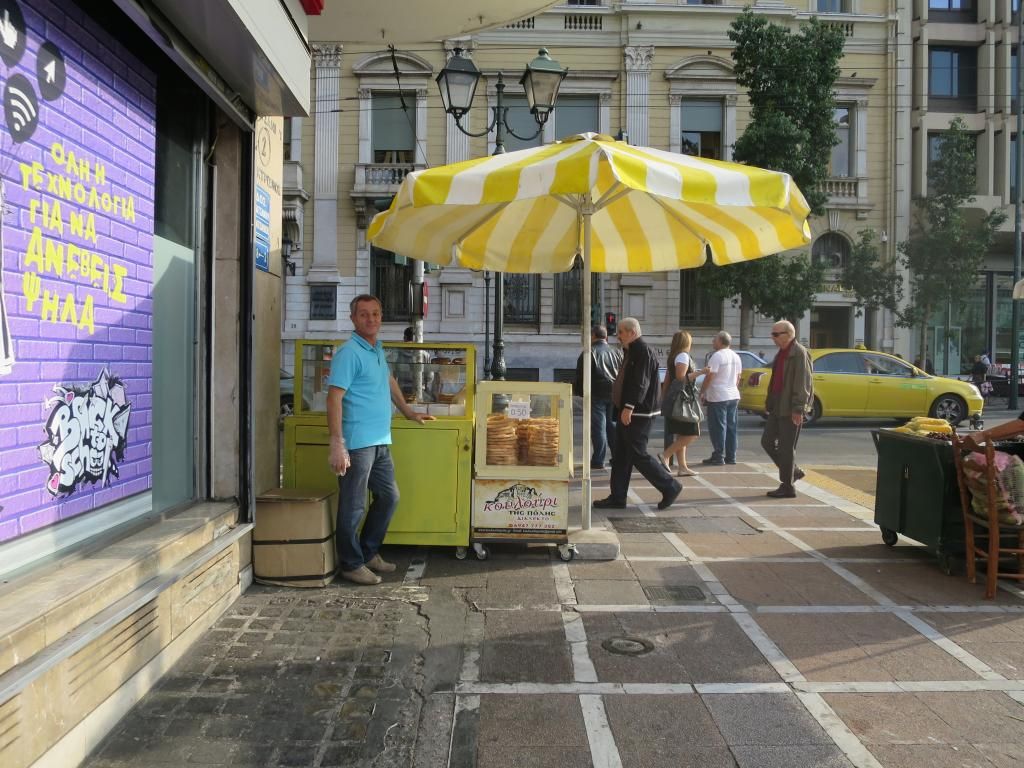 Our next stop was a short walk away from the koulouri stand. We sat upstairs in the small shop and waited with our mouths watering for the next treat. It came in the form of a small donut known to the Greeks as loukomades. Fried dough absolutely drenched in sweet, sticky honey with a powdering of cinnamon and a few crushed walnuts scattered on top. They were so, so good.
We followed the road down to a H&M shop which bizarrely leads through to the meat and fish market. A lively, bustling warehouse filled with stalls covered in thick slabs of meat and containers of glistening, silver fish. The air is filled with men shouting out their best prices, trying to sell their produce. Everything looked so fresh and seemed a lot cheaper than the prices of the supermarket.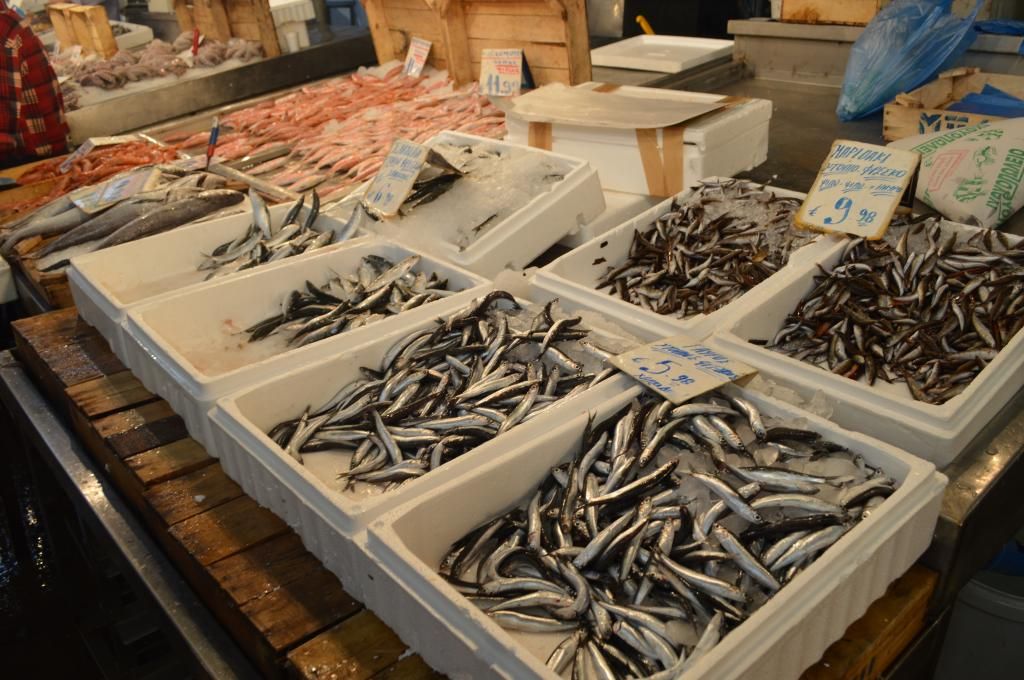 Coming out the other side of the market, we wandered up the road, turning a corner to find a Cretan shop where we would be sampling various treats from Greece's biggest and most prolific island. Amongst these treats were three kinds of olive (two of which only grow on the island), thyme honey, two kinds of cheese, rusks dipped in olive oil and olive paste, white wine and honey infused tsipouro. We also tried two types of jam and were told to guess what they were. The first was a very sweet flavour but not quite that of strawberry, it turned out to be carob jam. The second, a strange flavoured orange jam turned out to be olive jam. Crazy! It tasted pretty good though so I bought a jar to bring home with me, apparently it's especially nice when eaten with cheese.
It was then time for another stop, a dried meat shop which has the only vertical garden in Athens. We weren't in this shop very long but we had the opportunity to try some Badormar (dried beef), washing it down with a shot of tsipouro.
A herb and spice shop was next, it smelt gorgeous, largely thanks to the array of fruit and herbal teas. I'll definitely be making a return trip to buy some before I go back to the UK. We also tried some mastik, a natural chewing gum that is only produced in Greece. It is said to be very good for your teeth and gums, neutralising the breath and strengthening the jaw. It was also tough to chew and without taste, I don't think I'll be replacing my Wrigley's with it anytime soon.
Another stop where my mouth watered as soon as we stepped through the door was a small café where we tried a piece of Galaktoboureko. Thick, warm custard sandwiched between two pieces of filo pastry and dusted with icing sugar. I'm not normally a fan of eating sweet things but this was just too good to pass up.